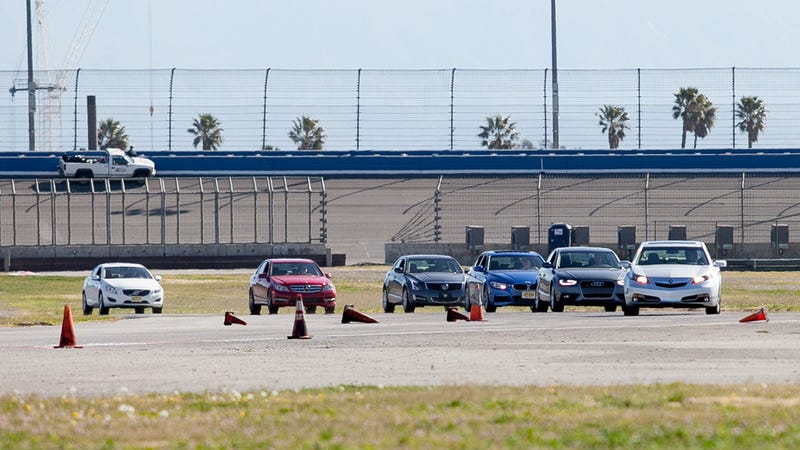 Do you ever read those multicar comparisons in glossy magazines and wonder what it really takes for them to do that?
Well, we just published our latest Challenge on Cars.com, and I can tell you it is not all track days and eating on the company per diem.
OK, it is one day at the track and the rest is in fact eating on the company per diem.
But the sheer amount of logistics work that goes into such a thing is far beyond the week we spent on the ground.
Our team in Chicago worked for months to organize the cars that would take part, the location, the routes for mileage tests and road tests, and of course track time.
We sent a team of three of our editors as judges, two more for logistics and three more for photos and video. We were joined by our counterparts from USA Today and "MotorWeek."
Then we drive.
We've been conducting similar tests like this one for the past three years and generally test the biggest segments like midsize sedans (twice), compact crossovers (twice), large crossovers, compact cars (twice ... maybe three times) and even minivans. There was never a reason for track testing for these segments because we knew that wouldn't influence shoppers and it didn't simulate the real-world.
When BMW and Mercedes-Benz both announced they were moving to turbocharged four-cylinders for their base models we knew this was a seismic shift we needed to address, and we were going to get a track by golly. Yes, Cars.com would test base models of sports sedans. That lines up with our consumer focus and the reality of car buyers.
Face facts folks, there are nearly 10 times more 328 sedans in Cars.com's new-car inventory than 335s.
I know this is soul-crushing to Jalopnik readers. Think how I feel. I dig up depressing stats on how people really shop every day. And when people ask me for car-buying advice nine out of 10 are deciding between three-row or compact crossovers.
I'm not sure how much folks know about Cars.com and our editorial policies, but we're pretty stringent here. We pay for our own gas in test cars, pay our own way on automaker trips and, of course, auto shows, too.
When it comes to these tests we come up with a price ceiling that the automakers must meet to take part. For this test we used Cars.com inventory to come up with an average price for a 328 sedan. Because the 3 Series is generally considered by both enthusiasts and the general public as the car to beat, we made sure the competition had a fair test — $46,000 is no small price tag, but it's always interesting how automakers try and match it.
We've told automakers "No" a few times in the past when they were over the price limit. For our tests, if you wonder why one automaker didn't add a certain option and others did you can blame them or their pricing.
The craziest thing we saw this time out was the Audi A4 and its no-cost option tires. They were Michelin Pilot Sport 3, P245/40ZR18s at $302 a pop on Tire Rack.
The track ate them alive.
The nice thing about being so rigorous about how we do the testing is we can answer a fanboy level of inquisition even though most of our readers are simply looking for the next car to buy.
Why are the 0-60 times so slow?
We were testing for consistency and comparison not top speeds.
Why no new Lexus IS or Infiniti Q50?
We plan the segments tested roughly a year in advance and decide on the field months in advance. Neither redesigned car would be available in time for the test.
Etc.
For me, there was little doubt the 328i ruled the track, and on our somewhat boring road course, it was the only one of the six that was actually enjoyable to pilot amongst the populace.
One of my colleagues and I agreed that we would pick this 328i - with its terrific suspension options - over the 335i. There is no need for the power and bigger payment. This one is nearly perfect.
And that is why these tests are so worthwhile.
David Thomas, Managing Editor Cars.com, former Jalopnik guest editor many years ago.
All Cars.com photos by Joe Bruzek and David Thomas.